The discovery or recovery of Polish art, so much of which had been destroyed or stolen during the Second World War, is always a matter of great importance and a reason to celebrate. One recent celebration, an exhibit in Stalowa Wola, a town in southeastern Poland, brought to Poland for the first time the works of one of the country's most intriguing prewar artists, Stefan Norblin, but these were not recovered stolen works but discovered works that the artist had painted in exile, unknown to his compatriots in Poland.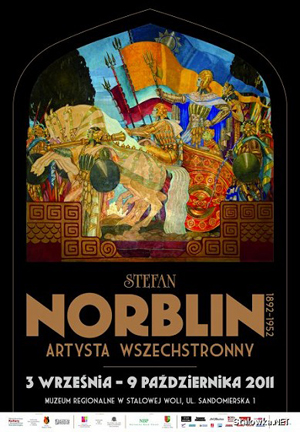 Among the guests at the opening of the exhibit were the Maharaja of Jodphur, Gaj Singh; German art historian Claus-Ullrich Simon; Poland's Minister of Culture Bogdan Zdrojewski; Caria Tomczykowska, president of the Polish Arts and Culture Foundation in San Francisco; and, for the first time in his life, the artist's Indian-born, American son, Andrew Norblin.
It was, by all accounts, a magnificent exhibition and a credit to the mayor of Stalowa Wola, Andrzej Szlęzak who proposed the idea, and to curator Anna Szlązak who described her work on this as "an extraordinary adventure." After its run in Poland, September 3 through October 9, 2011, the exhibit will travel to India to be shown in Delhi and Mumbai.
The exhibit is wonderful, but the drama behind it is fascinating too, a story that unfolded on three different continents. It began, of course, in Poland, where Norblin was a dazzling figure in the intellectual and artistic circles of Warsaw, his work in demand in Poland and across Europe. His style was Art Deco, his talent versatile. He was a painter, portraitist, illustrator, interior and architectural designer, worked in advertising, fashion and theatre costume. All of these talents would come into play again in India, where Norblin fused his Art Deco style with traditional Indian art.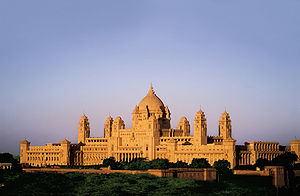 Norblin left Poland in 1939 for a commission to paint the royal family of Iraq. The war prevented any possibility of returning home, and in 1942 Maharaja Gaj Singh commissioned Norblin to design the interiors of his new palace, Umaid Bhawan, after the ship bringing interior designs from England was torpedoed in a German attack. He designed new furniture, painted murals and paintings in oils, including portraits of the family. Other commissions included designing interiors for palaces in Morbi and Patna, as well as portraits of the owners. His success led to an individual exhibition in the Sir Cowasji Jehangir Hall in Mumbai in 1944. (Right: The Umaid Bhawan Palace in Jodhpur, India; below left: the Norblin home in India.)
The war finally ended in Europe, but Poland was abandoned to a new regime of terror under the Soviet Union. In 1947, unwilling to return to a Communist-ruled Poland, Norblin and his wife, the popular Polish film actress, Lena Żelichowska, chose exile in the United States, settling in San Francisco. There, Norblin continued a successful career, his best-known work being portraits of Amadeo Giannini, founder of the Bank of America, whose portrait appeared on the cover of Time Magazine, and General Douglas MacArthur, whose portrait hangs in the Pentagon.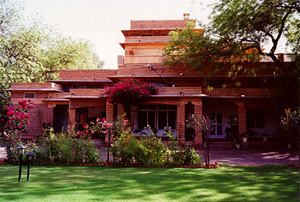 Their good fortune was brief and disaster struck in 1952 when Norblin was diagnosed with glaucoma. As an artist, he was unable to reconcile himself to blindness and committed suicide. His body of work, in India and in America, faded into obscurity.
In the 1990s, a German art historian, Claus-Ullrich Simon, went to India to do research on Indian palaces. In the course of his work, he discovered the paintings and interior designs by a Polish artist in several palaces, notably the Umaid Bhawan, one of the world's largest private residences, part of which is now one of India's most luxurious hotels. Impressed by the work, Simon was curious about the artist who, he assumed, must have perished during the war. His research, however, proved otherwise, and he traced the artist to San Francisco, where he got in touch with Norblin's son. I'll return to the family story later.
In 1996, Simon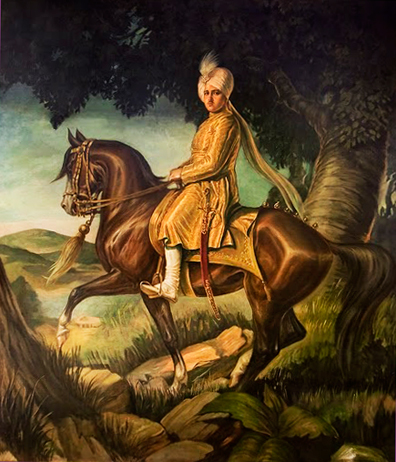 published a book, Art Deco for the Maharajas: Stefan Norblin in India, and got in touch with Polish diplomats in India. Simon was also able to inform them about the Norblin collection in California. It didn't take long for Polish specialists to investigate for themselves. Anna Szlązak noted the important role played by Mr. Simon.
It is ironic that the largest single collection of Polish art is in India but in the 21st century this does not mean it is totally severed from the artist's homeland. By 2006, conservators arrived in Jodphur and were warmly welcomed by the Maharaja who gave them generous access to Norblin's work and the cooperation needed to ensure the art would be preserved. That, together with the San Francisco collection, is an exciting discovery for art lovers in Poland.
More recently, Poland was planning a number of cultural events in anticipation of its presidency of the European Union. The mayor of Stalowa Wola, no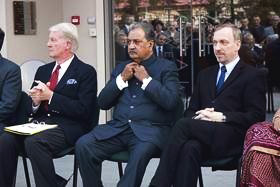 ting that both Norblin and his city were noted for their Art Deco style, proposed to the Ministry of Culture that the Regional Museum of Stalowa Wola mount a Norblin exhibit in three sections: Indian, Polish and American. (Left: Andrew Norblin, the Maharaja, and Poland's Minister of Culture Bogdan Zdrojewski at the exhibit's opening)
This launched Ms. Szlązak's great adventure as she moved swiftly to bring the collection to the museum and to design the exhibit. Indian diplomats in Poland and Polish diplomats in India got discussions in motion, Maharaja Gaj Singh was the personification of graciousness and generosity, and, thanks to the courtesy of Andrew Norblin and the San Francisco Polish Arts and Cultural Foundation, 19 of the foundation's paintings were shipped to Poland. Those too needed the attention of conservators and, indeed, the work is still continuing.
The result is a brilliantly executed multimedia presentation that includes oil paintings, drawings, watercolours, posters, illustrations, book covers, designs for costumes and prints. Virtual images recreate aspects of the palace and of San Francisco both indoors and in the museum garden.
A series of films, slide shows and lectures, notably by Claus-Ullrich Simon, complement the exhibit, while Indian dance troupes, films, an outdoor concert, food, and workshops demonstrating many aspects of Indian culture are offered throughout the city.
It is little wonder that Stefan Norblin: Artysta wszechstronny – Stefan Norblin: A Master of Many Arts is a huge success, attracting visitors from across Poland to celebrate a long lost artist and a new friendship with India.
The Norblin Family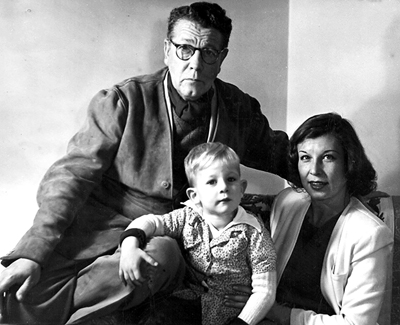 Andrew Norblin's attendance at the exhibit of his father's paintings, his first visit to Poland, was a tremendously moving experience for him, no doubt arousing many different emotions. After all, Andrew's father had been lost to him almost as long as he had been lost to Poland. His father died when he was eight, and by the time he was 14, his mother had died too, leaving a very young boy alone in a new country.
His mother, Lena Żelichowska, had arranged for friends to become legal guardians, a fireman and his wife, Mr. and Mrs. Walters. They were kind, Andrew said, "but it was not love, like the love of a mother."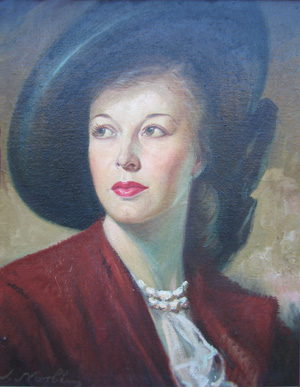 His mother's career as a film actress came to a complete end after the war. Her husband's commissions had been well paid, but after his death, Żelichowska went to work as a manicurist. They didn't have much money but mother and son had a close and happy relationship. "I asked her one once if she missed being an actress," he recalled when I spoke to him. "She told me that she didn't, because having a son was more important to her than a career."
After her death, he was left with little other than his father's American paintings. "I was very proud of both my parents," he said, "but I took after my mother, leaning towards music and performance. I'm not good at designing or painting. Later on, when I grew up, I got videos of her movies. They have English subtitles so I can understand what she's saying. They're wonderful."
He is a musician, a virtuoso guitarist. A modest, soft-spoken unassuming man, he relates the story of his first encounter with a guitar. At the age of 13, he saw a film with Bill Haley and his Comets, and was mesmerized by the playing of the guitarist, Franny Beecher. He saved up $15.00, his mother gave him another $15.00 for his birthday, and he bought himself an acoustic guitar. Before long, he was playing professionally and it was music that saw him through once he was left on his own, his music that paid for his education.
"It was tough, sometimes," he said, "because I'd play 5-6 nights a week and then have classes during the day." Despite that, he earned degrees in economics, eventually teaching the subject at a community college. It was not until the 1980s that he decided to quit teaching and live entirely on his music. Now playing with the Magnolia Jazz Band, he once said that it always gives him pleasure when he knows others get pleasure from the music.
He never forgot his initial inspiration though. In 2003, he cut a CD, "Goofin' Around 2003: A Tribute to Franny Beecher," which was praised by none other than Beecher himself. Much to Andrew's surprise and amusement, that earned him a spot in the Canadian Rockabilly Hall of Fame. "I've never been to Canada, but this is great," he said.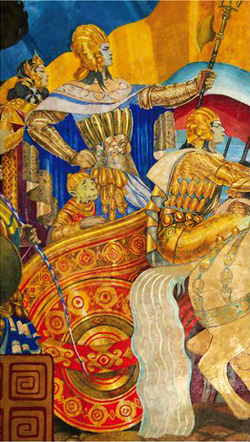 His connection to his Polish origin, on the other hand, had been severed except for his father's paintings and his mother's films. His father's art collection was quite large and Andrew didn't have the means to care for it properly. Some got destroyed. But he still had them in 1975 when his father's sister left instructions in her will that he should give his father's paintings to the Polish Arts and Cultural Foundation in San Francisco. This he did, except for the one of his mother. Yet another severance from his past.
Then, in 1995, a German writer, Claus-Ullrich Simon, who was working on his book about Stefan Norblin's work in India, got in touch with him. Told that Simon had found Norblin's son, the Maharaja invited Andrew to visit. It was a memorable trip and an emotional experience seeing the house where he spent his earliest childhood happily with his parents.
The invitation to Stalowa Wola finally brought him to the country of his parents' birth.
"I loved seeing the country, but the most exciting thing was seeing the exact location where my parents had started building their new house just before the war started," Andrew said. "That was a very moving experience. I had closed the circle."
CR
Imagery
Opening exhibit guests – courtesy of Andrew Norblin
Exhibit poster – courtesy of the Regional Museum of Stalowa Wola
The Norblin home in Jodhpur, India today – courtesy of Andrew Norblin
Maharaja on a horse by Stefan Norblin – courtesy of The Polish Arts and Culture Foundation in San Francisco
Family photo – courtesy of Andrew Norblin
Portrait of Lena Żelichowska – courtesy of Andrew Norblin
Exhibit cover – courtesy of the Regional Museum of Stalowa Wola