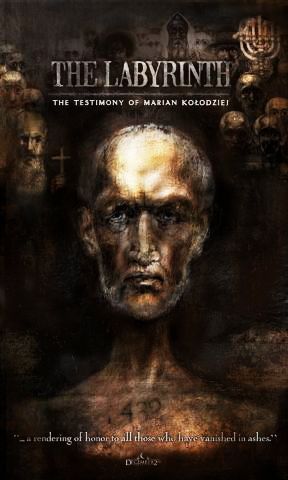 A film from December 2nd Productions
in association with Loyola Productions Munich, 2010
Directed by Jason A. Schmidt, produced by Ron Schmidt, S.J.
After Marian Kołodziej, a talented Polish film / theatre set and costume designer, suffered a debilitating stroke in 1993, he required extensive physical rehabilitation. Given pen and paper, he began drawing scenes from his youth, the years between his 17th and 23rd year, a period of time he had never before talked about. They were not the usual scenes associated with youth; Kołodziej spent these years as a prisoner in Auschwitz.
Marian's drawings and art installations, which he called The Labyrinth, eventually filled the large basement of a church in Harmęże, a town near Auschwitz.
Kołodziej described his labyrinth thus: "This is not an exhibition, nor art. These are not pictures. These are words locked in drawings… I propose a journey by way of this labyrinth marked by the experience of the fabric of death. It is a rendering of honor to all those who have vanished in ashes."
He was sent to Auschwitz in the first transport of prisoners in May 1940, a 17-year old still filled with boy scout ideals. There were 700 Poles in that first transport to the camp, and he, prisoner #432, together with the others, had to build it. These first years were the most brutal, a time when a German barrack boss could indulge every form of sadism and mark notches on his walking stick for each prisoner he killed.
After a few months, the young Marian was assigned to carry corpses to the crematorium; one, he noticed, was a good friend of his from school. He carried his friend's body by himself and gently handed him to the men loading the ovens, trying, in this way, to honor him.
He was in the same barrack as Maximilian Kolbe, the priest who voluntarily took the place of a prisoner condemned to death in a starvation cell, offering his life in exchange for a prisoner who had a family. "He was a man," said Kołodziej, "that is all that counts."
Kołodziej almost never speaks of the Jewish Holocaust because, he said, it was "too great a tragedy for words. Most did not realize they had been brought there to be immediately killed."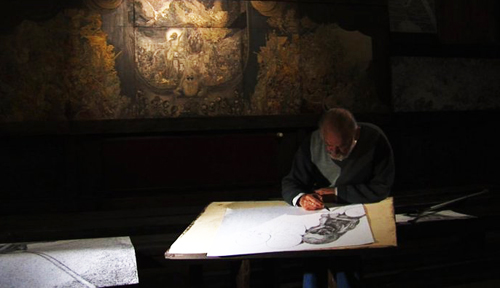 Once he began his work, Kołodziej spent several years on his drawings and installations, his testament. Hundreds of skeletal bodies, yet with hundreds of individual faces. He does not recall them as a mass, but as individual human beings, each with their own features. More than 300 drawings in all, mostly images of hell but also some of tenderness, of acts of kindness.
It seems that Kołodziej's stroke, while bringing him near death also enabled him to reach into the depth of his memory. He had an obligation to fulfill, a duty to those who suffered and died in Auschwitz.
Just as Kołodziej insisted that his work was not "art," so it is also difficult to call The Labyrinth: the Testimony of Marian Kołodziej just a "documentary," a film meant to generate an animated discussion with the audience.
In fact, The Labyrinth leaves one speechless. It is a spiritual experience, and calls for reflection. After a while, you will talk to the others near you, make comments, but you will choose your words carefully. It raises new questions, but renders impossible any manipulation of responses.
Is progress possible? What did the Enlightenment mean, and how did it lead to this? Were we liberated from ignorance only to knowingly commit genocide? When did rational thinking become irrational, and how did it lead to "rationalization" on the scale that we witnessed in the 20th century?
What The Labyrinth shows us could not be shown in any other form without degrading it. Director Jason Schmidt allows no intermediary to intrude. It is not a story to be told, but an entry into a world we could not imagine.
Filmed entirely inside Kołodziej's labyrinth, using no more light than is necessary to keep the effect authentic, and narrated entirely by the artist's own words, The Labyrinth has been selected for more than 15 film festivals, garnered many awards, and screened at many colleges and public institutions. It deserves much greater attention.
The filmmakers, the Schmidt family, have worked on some of Hollywood's classics, ranging from the grandfather's editing of Sunset Boulevard and Some Like It Hot, to Gregory J. Schmidt's cinematography on Pirates of the Caribbean 4 and Water for Elephants; Jason A. Schmidt and Ron, a Jesuit priest, are both award-winning international documentary filmmakers. The Labyrinth has been well-served by their considerable talents.
CR