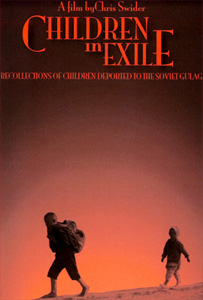 Children in Exile
Opus 27 & BulletProof Film
© 2007 Opus 27 Productions
Writer & Director: Chris Swider
Producers: Chris Swider & Ilko Davidov
Produced and directed by Chris Swider, Children in Exile is a documentary about the youngest victims of the repressions carried out by the Soviet Union during the Second World War, the children and teen-agers deported to Soviet Siberia and Kazakhstan. Rare archival film footage and photographs, together with excellent interviews, the film puts a human face on history to great effect. Among the interviews is one with Poland's last Communist president, General Jaruzelski, who candidly talks about his own family's deportation.
Chris Swider is a graduate from the Polish National Film School and from Columbia College Chicago where he is now a professor, teaching directing. Working on films in Chicago, he has been an editor, cameraman, writer, and production manager;  directed narrative short subject films and documentary films, and he produced, wrote and directed an independent feature film, Selling Short. As a producer for Bulletproof Film in Chicago, he co-produced Unauthorized and Proud of It, a 75-minute documentary about comic book publisher and first amendment advocate Todd Loren, directed by Ilko Davidov.
His next project, Women in Exile, is a companion work to Children in Exile, and is about the fate of women in Soviet labor camps. He is also working on East Block Rock, a documentary about the role of Rock and Roll in the fall of communism.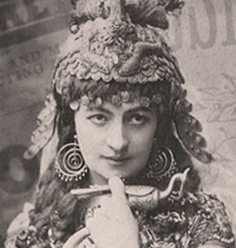 Modejska: Woman Triumphant
Produced by OC Influential Productions, LLC
In association with GetBizzy Entertainment, Inc.
© 2009
The first full-length documentary about Helena Modjeska, (Modrzejewska) the great Polish actress whose American career as a Shakespearean actress spanned almost three decades.
Despite a great career in Europe, Modjeska left Poland in 1876 because of the Russian restrictions on her theatrical career – but also because of a complicated personal life. Together with a family and a few friends, she came to Anaheim, California where she and a group of intellectuals, among them Henryk Sienkiewicz, embarked on establishing a utopian commune.
The Utopian experiment failed, leaving her in a difficult financial situation. Shortening her name to Modjeska, she soon made her mark as the pre-eminent Shakespearian actress in America. Although barred in Russian-occupied Poland, she returned to perform in Krakow, Lwow and Poznan in 1902-3.  Her last, jubilee performance was in New York in 1905, after which she retired, appearing only in support of charitable causes.
She died in Newport Beach, California, in 1909, and was buried in Krakow's Rakowicki Cemetery.  Her son, Rudolf Modrzejewski (Ralph Modjeski) was a civil engineer who gained fame as a designer of some of America's best-known bridges including the San Francisco Bay Bridge, the Benjamin Franklin Bridge linking Philadelphia and Camden, NJ, and the St. Lawrence River Bridge in Quebec, the longest cantilever span in the world.
Modjeska: Woman Triumphant was produced and directed by California-born Basia Myszynski, a graduate of UC Irvine and the National Film Academy in Poland, with cinematography by Leanard Myszynski and music by Mikoloi Stroinski.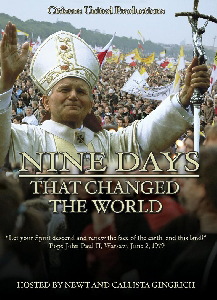 Nine Days that Changed the World
© 2010 Citizens United & Gingrich Productions
Written & Directed by Kevin Knoblock
Citizens United Productions and Gingrich Productions  have recently released a documentary about Pope John Paul II's historic visit to Poland  in 1979 that created a peaceful revolution that not only liberated Poland but went on to change the landscape of Europe.
Narrated by Newt and Callista Gingrich, Nine Days that Changed the World contains some of the most beautiful and dramatic film footage and best interviews ever put together in one documentary about the Pope and about Solidarity. Among the interviewed are the authoritative George Weigel, the Pope's old friend Jerzy Kluger,  Vaclav Havel, Former CIA Director James Woolsey and Secretary Jim Nicholson and, most poignantly, Solidarity heroine Anna Walentynowicz. Lech Walesa appears in what is arguably his most charming, modest, yet powerful interview ever. Commenting on the peaceful nature of Solidarity's revolution, he says, "We just wanted to feel at home."
A sharp and most inspiring contrast to all the revolutions that preceded it, Solidarity's victory revealed the power of a man of peace whose simple words, "Do not be afraid," challenged and defeated a brutal empire. A bit too long, Nine Days could have used some editing, especially at the end, but otherwise it is an uplifting account of the greatest event of the 20th century.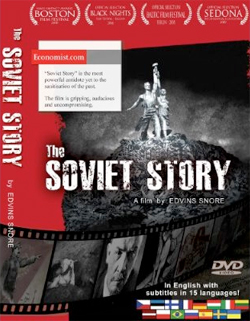 The Soviet Story
Author & Director: Edvins Snore
© 2008
The Soviet Story, a documentary by Latvian born director Edvins Snore, is the disturbing, often shocking, and sometimes controversial film about the Soviet Union and the crimes that for so long have been overlooked in the interest of realpolitik.
A chilling indictment of Soviet rule, the film has garnered excellent reviews from distinguished publications such as The Economist —
The Soviet Story is the most powerful antidote yet to the sanitisation of the past. The film is gripping, audacious and uncompromising. […] The main aim of the film is to show the close connections—philosophical, political and organisational—between the Nazi and Soviet systems.
— while in Russia, the reaction has been hostile; the director was burned in effigy, an honour The Economist compares to winning an Oscar.
The reviewer for the New York Times, on the other hand, questions the film's motives. Makes one think he is still influenced by Walter Duranty, the New York Times writer of another era who not only wrote fanciful praise of the Soviet Union but got a Pulitzer prize for it too.
A groundbreaking film, The Soviet Story contains archival footage and photographs never seen before, and brings attention to a subject largely ignored in the West.
CR