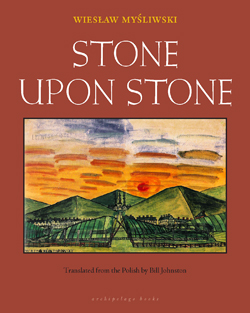 Stone Upon Stone
By Wiesław Myśliwski
Translated by Bill Johnston
Archipelago Books, 2011
"What was there to write about?" deplores our charismatic narrator Szymon Pietruszka as he sits down to compose a letter to his brothers. "Was I supposed to tell them what was happening in the village, when they maybe weren't that interested in remembering the village anymore?" But when, after the end of the Second World War, Szymon's brother Michał visits from the city in an extravagant automobile with driver, Michał avoids answering any questions about his own life and work. Instead—upon bestowing the family with new clothing and other small luxuries including tobacco, spices, and needles and thread—he sets about inquiring about all subjects of life in the area, asking "…whether old Mrs. Waliszka was still alive and did her son Mietek still drink the way he used to, whether the storks still came and nested on our barn, why father was wheezing like that, did he have to smoke so much, whether mother still baked bread or did we eat store-bought, had there been mines in our fields, whether our crop had been good this year, then he asked about each one separately, how was the rye, how was the wheat, how was the barley, how were the oats, where they were grown and how much there'd been of them, why we didn't plant millet…"
First published in 1984, Wiesław Myśliwski's Stone Upon Stone is set in the contemporaneous Polish countryside. The plot centers on the protagonist's project to build a family tomb, but simultaneously our garrulous narrator weaves a set of colorful memories into a portrait of village life and attitudes over the decades: from tales of his grandparents' lives, to being raised on a farm in inter-bellum Poland, to his adventures as a social ladies' man and pub brawler, to his exploits as a partisan resistance fighter against the Nazi occupation, and throws in stories of his work as a barber, government office worker, and policeman. Meanwhile we learn about maintaining a family farm in an ever-modernizing world based on love of the land, and laced with shifting politics.
The whole of Stone Upon Stone is as much a testament to the richness of life in 20th century rural Poland as is Michał's barrage of questions on his first visit. The reader can't help but wonder what motivates the brother's interrogation; while we want to trust that the son is genuinely interested in the goings-on of his childhood home, we become acutely aware especially of the questions about harvest sizes, what the priest preaches on Sundays, and which farmers are faring best, all scattered among queries about the old farm dog, mother's health, and where in the river do the youth now go to swim. And as this suspicion is neither fully quelled nor confirmed, the novel offers not only a description of village society and concerns, but also the very experience of conflicting trust and uncertainty, increasingly pervading the reality during decades of Communist rule in Poland.
Immediately upon publication, Myśliwski's epic tale of folk life was held up as a masterpiece akin to Władysław Reymont's classic Chłopi (The Peasants), which had been penned at the turn of the century. Whereas The Peasants exists in four parts, one for each season, Stone Upon Stone takes a meandering form that interlaces stories from different times and people in Pietruszka's life, and is only punctuated by chapter headings like "Weeping" or "The Road." There is no beginning or end; rather, each section unfolds effortlessly, culminating in an existentialist portrait of a life lived through which we come to intimately understand a worldview as it evolves over the course of a century of cultural history.
With Bill Johnston's excellent translation recently out on Archipelago Books, Stone Upon Stone is available to English-language readers for the first time. The Polish nation now—after two and a half decades of capitalism and a decade as part of the (recently struggling) European Union—has a different relationship with small family farms and agriculture as a whole. In our time of global economic crisis and widespread protest against conditions of centralized affluence and power, when we find ourselves seriously questioning the systems in and with which we live, it is worth reflecting on the major developments of the last century while remembering that whatever happens next, they are real people and real lives that will be affected. And when all ideology is stripped away, perhaps there is something to learn from a wholehearted love for life and respect for the earth as radiated by one Szymon Pietruszka.