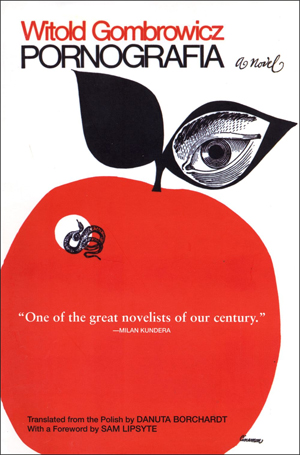 DANUTA BORCHARDT:
WINNER OF THE 2010 FOUND IN TRANSLATION AWARD
New York, The Polish Cultural Institute
Sept. 27, 2010
Found in Translation is an annual prize given for the best book-length translation of a work of Polish literature into English. This year's winner is Danuta Borchardt for her translation of Pornografia (Grove/Atlantic, 2009), by Polish literary giant Witold Gombrowicz (1904-69), an underground classic since it was first published in the Polish émigré press in Paris in 1960 and subsequently rendered into several European languages, including English via the French and German versions. Borchardt provides the first translation of the book into English directly from the Polish original.
Robert Boyers, editor of Salmagundi, writes, "Borchardt brings Gombrowicz's great novel to us with a force and beauty English-language readers have not felt before. Deception and illusion, savagery and high mindedness, fire and ice, desire and impotence are all captured in the crystalline sentences of a translator who is herself a masterful stylist."
The award will be presented at the University of Illinois at Chicago during the ceremonial inauguration of The Stefan and Lucy Hejna Chair in Polish Language and Literature, to be assumed by Professor Michal Pawel Markowski. Prof. Markowski is one of Poland's leading public intellectuals with 12 books and over 150 essays to his name and winner of numerous awards. The bequest of Romuald Hejna to the University of Illinois at Chicago is the largest single gift to the university and will fund two chairs in Polish history as well as the chair in language and literature, representing a major expansion in the field of Polish studies in the U.S.
The winner of the Found in Translation Award, established in 2007 by the Polish Book Institute in Krakow, the Polish Cultural Institute in London, the Polish Cultural Institute in New York, and W.A.B. Publishers in Warsaw, receives a monetary prize and a three-month residency in Krakow funded by the Book Institute. The first Found in Translation Award, in 2008, was given to Bill Johnston for his translation of New Poems by Tadeusz Rozewicz (Archipelago Books, New York, 2007). In 2009 the award went to Antonia Lloyd-Jones for her translation of Pawel Huelle's The Last Supper. Candidates for the award may be nominated by private individuals as well as institutions in Poland and abroad.
Nominations should be sent with the subject-heading FOUND IN TRANSLATION to:
The Polish Book Institute
31-011 Krakow
ul. Szczepanska 1
Poland
or by e-mail: biuro@instytutksiazki.pl
CR