Here's what's wonderful about Polish Classic Desserts: Biting into a still-steaming, plump, plum dumpling: the fruit warm and a bit tangy; the breadcrumb topping buttery and sweet. Heaven!
This newest publication from husband-and-wife team Peter and Laura Zeranski features 41 dessert recipes with an additional four for "adult beverages."
I love sweets, especially European ones – they're richer without being sweeter, and taste more decadent while (go with me on this one) being better for you because of the fresh, unprocessed ingredients: fruit, real butter and milk.
I tested seven recipes. I'm an average baker – I make really good brownies and for family holidays am tasked with baking the desserts – but have never taken a baking (or cooking) class.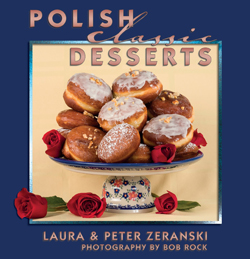 The book was a fantastic opportunity for me to explore my Polish culinary heritage – like with the plum dumplings, which was our household's equivalent to the ubiquitous Polish pierogi (my mom is a Lithuanian-born Pole who made knedle, never pierogi).
I knew many of the desserts – and skipped the cheesecake and gingerbread recipes since I'm not a fan, but found some new favorites, like the strawberry meringue and poached pears.
Not all the recipes worked for me without some tweaks. I had difficulty with the dough a couple of times and had to make some modifications, which I've detailed below; they may be helpful for other bakers.
---
Plum Dumplings: Knedle
Back to the plum dumplings. My sister helped, and although the recipe could be made solo there's lots of assembly involved.
Our grocery store didn't have Italian plums, just the regular larger ones. We cut these in quarters instead of halves like the book recommends because knedle should be half the size of your fist, according to my childhood memories. We also made some with blueberries, and my sis made some plum-blueberry combos. The book says to boil them 8-10 minutes but ours needed twice that or more.
The assembly's the trickiest. We found that dabbing a tiny bit of water to close the dumplings worked well.
The recipe makes lots of delicious knedle, so we ate a bunch for dinner, then an evening snack, and then stored the rest in the fridge, where they kept nicely till we finished them off within a week.
---
Kołaczki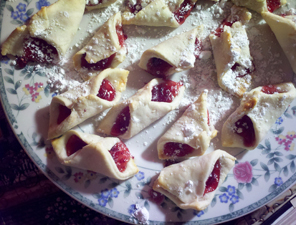 I made these and brought them to work, where a number of Poles asked, Co to są kołaczki? (What are kołaczki?) The origins of this flaky little piece of goodness with a jam filling is definitely Eastern European (Slovaks and Czechs make them as do some Poles), but they've become quite popular in Polish-America.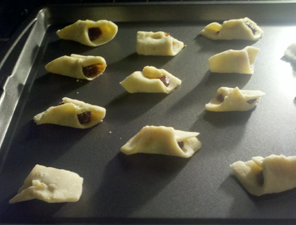 The dough was challenging – it was so crumbly after I took it out after the fridge, according to the recipe, that it seemed it would never roll out. So I warmed it up by letting it sit on the counter for a while, and then kneaded it in my hands till it came together. (The recipe says to roll it out as soon as you take it out of the fridge.)
I used a wine bottle in lieu of a rolling pin, then flattened the dough further with the palm of my hand. I used a knife since I don't own a square cookie cutter.
The folding isn't that easy – I ended up twisting two of the edges together. I first tried lingonberry jam thinking the tartness would be nice, but it turned out too liquidy and ran out from the dough onto the cookie sheet. This formed delicious fruit roll-up-like strips, but I moved onto thicker jams: a Polish plum butter and French fig preserve worked nicely.
---
Mocha Torte
My mom and I made this and the cherry tart together. The end result was good, but we had to make some tweaks as we went along – and still weren't quite satisfied as the cake part still tasted too dry.
This is a good torte to make for coffee lovers, as the icing is strongly espresso flavored. Not sure what could be done to make the cake moister – maybe some extra egg?
The icing was too runny, so I popped it into the freezer for 20 minutes, and that made it the perfect spreadable consistency.
The photo shows slivered almonds topping the cake but the recipe didn't mention them. I sprinkled about two loose handfuls onto the top once the torte was assembled.
---
Skubaniec
I told my sis I'd make her whatever dessert she wished for her birthday, and she chose the strawberry meringue, or skubaniec – giggling at the name: "skubać" in Polish translates to pinching but with a playful connotation. The name comes from having to pinch the butter and flour together at the recipe's onset.
Skubaniec was fun to make, and the taste is unique and unexpected: a buttery crust is layered with strawberries and topped with baked meringue. It's light and yummy.
---
Chocolate Sandwich Cookies
A great recipe: I made these for a going away gift at work, and the cookies are pretty and delicious. The chocolate filling is amaaaaaaaazing. It tastes like a thick, rich, dark chocolatey custard and is good enough to eat by the spoonful.
The book's recipes often include a personal anecdote at the top. Used sparingly, these can be charming, and offer a glimpse into Polish social customs. Here, we learn that author Peter was taken on Sunday afternoon visits, high-tea style where cookies like these may have been served.
It's in these anecdotes, however, that I found some issues that detracted from the book's overall quality. "Idziemy na wizite," is included in this recipe, translated as, "We're going for a visit." But, wizite should be spelled wizytę, and moreover, the proper term is, "Idziemy z wizytą." Not a huge deal, but since so much attention has been poured into the recipes and photos, an error like this is out of place.
---
Polish Cavalry
A bigger deal than wizite is on page 45, in an introduction to Alina's Wedding Cake. We read that "Peter's dad joined the gallant Polish cavalry to fight tanks on horseback," and was "inevitably and quickly captured by the Germans and was locked up for most of the war in a POW camp for military officers."
Polish cavalry never fought tanks on horseback – and is part of a particularly nasty piece of German Nazi propaganda to show how ridiculous and stupid Poles were. Seeing it in a book that's so obviously brimming with Polish pride made me sad; how insidious propaganda can be!
For an in-depth look into this issue, I recommend "1939 Polish Cavalry" by John Dunn with the tagline, "The real story is far more interesting than the enduring Nazi-promulgated myth."
Dunn writes, "…no mounted Polish cavalrymen ever charged at German tanks with lances in World War II," and includes a quote from the UK's Guardian that this was "a myth of the Second World War, fostered by Nazi propagandists… There is no evidence this occurred."
Poland's cavalry did take part in the September 1939 campaign, and proved a "tough and dangerous adversary," according to Dunn, but used horses for transport – not for fighting tanks. The cavalry also fought the German Nazi infantry at the onset of the war during the Charge at Krojanty (which is where the tank-vs.-cavalry myth may have begun).
There's little that raises my Polish-American ire than false stereotypes like this, deliberately planted by Poland's enemies with a frighteningly enduring aim. Poles have endured much. WW2 was terrible, and then the nation was oppressed for five decades under Soviet communism. Poland is finally coming out of that fog, and despite its turbulent history, is becoming a European rockstar. As Polish-Americans, we need to make sure that the truth about our culture and heritage be passed on.
It's my very strong suggestion that this particular anecdote be researched and clarified, also because writing that the cavalry "inevitably and quickly" were defeated by Germans is insulting. As Dunn writes, "The Poles put up a brave fight, both on and off their horses, but were no match for the German blitzkrieg. it pitted fast movement and modern weapons … against an impoverished nation that the Allies left to defend itself as best it could."
"Impoverished" because Poland had just regained independence in 1918 after 123 years of foreign partition. History is complicated, and Poland's wartime history very much so. We need to get it right. I'd be hesitant about buying this book as a gift for this very mention – that's how strongly I feel about historical accuracy. But if this were corrected for a second printing, then you'd definitely have a customer.
---
Cherry Tart
The dough would not come together for me, so I added an egg yolk and about five more slices of butter.
Since cherries weren't in season, I bought two large jars of cherry compote, drained the liquid and de-pitted the fruit. I reduced the amount of sugar called for in the topping ingredients since the compote cherries were already a bit sweet.
---
Poached Pears in Sauce
We served these at a dinner party, and they were a huge hit. They look lovely, and the guests all made some variation of, "Wow!" when we brought them out.
We only made the chocolate sauce (there's also a vanilla version), and used small pears (the recipe calls for large). For the sauce, I used half-and-half instead of light cream, which made the sauce super thick. Right before serving, I heated the sauce in a double boiler, and then it poured easily over the pears. To plate them, I placed a dollop of the sauce and then the pear on top of that. They were very good, but our pears, after being taken out of the syrup water, weren't as light-colored as the ones in the photos.
---
And Some End Notes
I'm glad I own this book; it's been fun choosing and trying new recipes and I'll keep doing so.
I do wish the recipes were more detailed, especially since this was the first time I'd made each recipe I tried. Since I've never folded a kołaczek or assembled a mocha torte, helpful tips would be very useful.
The recipe layout needs improvement. The main block of text runs down two-thirds of the page, but when there's spillover text it's put into a smaller column to the right or left of the text. When it's to the left, there's an awkward leap, often mid-sentence, which especially doesn't work when I'm standing with dough-covered hands, blender whirring, trying to figure out what's next.
In the meantime, I'm looking forward to making more Polish goodies: I've got my eye on the Babeczki Smietankowe (Filled Baby Babas) because of the filling, a creamy vanilla custard-like concoction. I'm also looking forward to the Lemon Torte and Poppy Seed Torte, and the various fruit bars – pineapple with walnuts, rhubarb, apple.
There's an extensive, two-page recipe for pączki, and a note from the authors saying it was the "single most requested dessert for inclusion." Pączki grace the book's front cover, and I have mixed feelings about that since they're not that photogenic despite their spectacular taste. Plus the recipe calls for deep frying, which is a place I'm not sure I'm ready to head in my tiny DC kitchen. So perhaps I'll turn to brewing an adult beverage instead: the Plum Liqueur and Cherry Cordial sound perfect for summer months, while the Krupnik (Honey Liqueur) and Chocolate Cream Cordial sound like musts for cooler months.
Smacznego!
CR