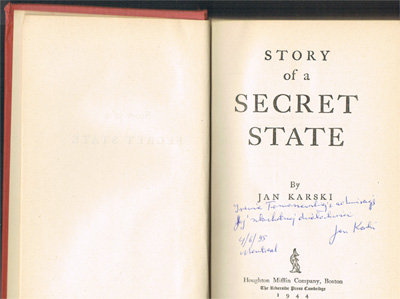 Jan Karski's Story of a Secret State was first published in 1944. A heartbreaking account of the conditions in occupied Poland, and the price paid in suffering and loss of life by members of the Polish resistance, and of Karski's secret mission to inform the world about his eye-witness account of the systematic murder of the Jewish people, the book sold 400,000 copies but was quickly ignored after the war as Poland's allies handed the country over to the Soviets. His story was not convenient to the leaders of the Western Alliance and was soon ignored.
I have a copy of the 1944 Houghton Mifflin edition of Secret State. The binding is torn, the pages are yellowed, but it is a treasure, signed by the great and humble man himself when he was a guest in my home in Montreal on April 6, 1995.
The occasion was a speaking engagement that I organized on behalf of the Polish Jewish Heritage Foundation (PJHF) in Montreal. I was a member of the Board at the time and I was also co-author, with my friend Tecia Werbowski, of a book about Żegota published in 1994. I received a lovely letter from Dr. Karski commending us on our initiative and graciously ending with the words: "…thank you, thank you very much."
I shared this letter with the PJHF Board and we decided that this presented us with an opportunity to invite Dr. Karski. The task was delegated to me. His phone number was in his letter so I called him, though a bit worried that perhaps this was presumptuous. Dr. Karski quickly put me at ease with a warmth and friendliness that was just a brief preview of the delightful man we would meet.
He accepted our invitation saying, "I'm 81 so make good use of me. I have a lot of energy but maybe not much time left." Indeed, his stamina was matched only by his extraordinary kindness and interest in others. In one weekend he gave a public lecture to an audience of several hundred at McGill University; a lecture at the Polish Consulate attended by 150 university students, and another at the Jewish Library speaking to several hundred high school students. In between he met informally with the PJHF Board and a joint meeting with the Polish Canadian Committee for Dialogue and the Canadian Jewish Congress. The student lecture and the dialogue groups were hosted by the Polish Consul General, Małgorzata Dzieduszycka, whose support for all our activities was boundless.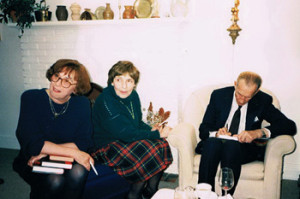 I believe that the meeting with university students pleased Dr. Karski most. An article in The Montreal Gazette (April 7, 1995) about the "Polish underground hero" noted that he told "a hushed, overflow audience of Montreal university students that 'I saw terrible things that none of you could imagine.'" Introduced by a member of the Polish Students' Association and thanked by a student from Hillel, he was surprised and gratified that so many young people were interested; they, in turn, were awed by his courage and his modesty. "I did nothing extraordinary," he told them. "I was one of thousands, and I was one of the lucky ones. So many of my friends were killed."
We had a technical problem with the microphone that day but Dr. Karski put us at ease. "I'll just stand closer to them… and bellow," he joked. Indefatigable, he stayed on for informal conversation, constantly surrounded by awestruck students. Their animated conversation no doubt dispelled any misgivings he may have had about young people's interest.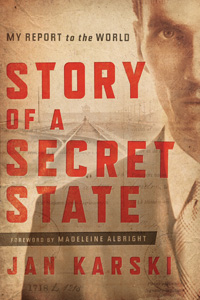 Jan Karski and his story continue to fascinate and inspire. In 1995, the year of his Montreal visit, a biography was published, Karski: How One Man Tried to Stop the Holocaust. In 2011, the Penguin Classics edition of Story of a Secret State: My Report to the World garnered laudatory reviews. The thoughtful review in The Guardian summed it up: "In 1944, Story of a Secret State was meant to save Poland, which it failed to do. Reread now, it posthumously glorifies a single very valiant Pole: that, however, is not exactly an adequate recompense."
In March 2013, Georgetown University Press will release its new edition, with an introduction by Madeleine Albright, a biographical essay by Timothy Snyder, and an Afterword by Zbigniew Brzezinski.
Jan Karski is a hero not just for our times but for all times. He represents the best in humanity and the collective will of a nation that would not submit. CR
Imagery
The author's signed copy of "Story of a Secret State." Jan Karski writes, "Irenie Tomaszewskiej z admiracją, Jej szlachetnej działalności, Jan Karski, 4.6.95, Montreal" – "To Irene Tomaszewski with admiration for her honorable work, Jan Karski, 4.6.95, Montreal"
Irene Tomaszewski on the far left; Jan Karski signing books on the right at the Montreal event in 1995
The upcoming, new Georgetown University Press edition of "Story of a Secret State"