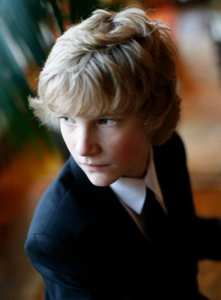 He loves Polish landscapes, fishing, mushroom-picking and biking at his grandparents' cottage. That's when he's not busy charming the world with his magic fingers. At the age of 14, Calgary-born pianist Jan Lisiecki has conquered the hearts of music lovers in Canada and beyond. And yet he has stayed remarkably down-to-earth. "I believe that life should unfold the way that it is supposed to unfold," he told CR between concerts in Munich and Banff. Pianist extraordinaire? Yes. Extraordinarily human? Most certainly. Jan Lisiecki on being a citizen of the world and on why he prefers music to math.
CR: What are you up to these days, music and performance-wise, life-wise?
JL: This year, the world is celebrating Chopin's 200th birthday. I have a lot of concerts to give throughout the year, including in exotic places such as Guatemala, Japan, and Korea. I am truly looking forward to return and perform in Warsaw during the international festival "Chopin and His Europe" this summer. I will also be busy in school, with final exams from math, English, and social studies in high school.
Usually when questions about my future are asked, I am very hesitant with answers. I believe that life should unfold the way that it is supposed to unfold. Indeed, I am working very hard on my dreams, but presenting dreams as something certain is not in my personality. There is no question to me if I would like to be a musician or not, as I am working hard to be one. While performing in NY I listened to Barenboim at the Met. To play like him you need more than hours of practice or millions of dollars in marketing – you need to live a good life, have a family, and be well educated. My goal for sure is not a quick career but life with music.
CR: I once read that you referred to yourself as a citizen of the world. What does that mean to you?
JL: Music is an expression of humanity; it is something that we are all touched by. Music is a language, it can communicate with people internationally, without any barriers. Having two citizenships and speaking four languages is helping me understand other cultures better and be more accepting of the differences that they represent. Through music I can communicate how beautiful the world is. No matter what culture we're from, music is healing, and people love it.
CR:When you hear the word Poland, what does it evoke to you?
JL: I always associate Poland with landscapes taken right out of paintings, old churches and their bells, the cobblestone streets.
I think about the beautiful concert hall in Warsaw, the amazing public, friends that I already have there.
I think of my grandparents cottage on a lake near Gdansk, the time I spend finding mushrooms there, the bike rides, the fishing, the landscapes..
Poland is a big part of who I am today.
CR: Do you feel your Polish background influences your playing?
JL: As I said, music is an international language. And I don't believe that nationality can tremendously influence interpretations. I love Bach, Mozart, Beethoven, and Rachmaninoff. I also love the French impressionist composers. I receive many positive reviews on my performances of these composers, although I am not German or French.
CR: How would you describe Poland's (and Poles') contribution to the world?
JL: I once had a discussion with a British friend about Poland's contributions to the world. He said: "England discovered North America." My response was that without Copernicus, the world would still be flat! Poland's contribution to the world in all fields is essential to the world, and I am very proud and happy that this is part of my Polish heritage.
CR: Some people say only a Pole can truly understand and interpret Chopin's music. What would you reply to that?
JL: I beg to differ. I believe that Chopin's music can be understood by anybody who speaks from the heart.
CR: Are there times when you just don't feel like playing?

JL: No! I love performing – and to perform, one needs to practice. There is always hard work involved in reaching a goal.
CR: Which qualities make for a good piano teacher?
JL: A teacher and student must bond together both with musical ideas and personalities.
CR: How do you deal with fame at such a tender age?
JL: As Jerry Garcia said, "fame is an illusion." If you believe that success is measured by how happy somebody is, indeed I am very successful. The secret of success is to be yourself and have fun.  In a way, what I am doing is against all odds. I am from Calgary. I am not studying in a prestigious, famous school, I don't have a powerful "heavy-weight" teacher. My parents aren't musicians. By saying this, I am trying to emphasize that anybody, anywhere, not only musicians, can be successful with a love for what they are doing. Of course, it requires dedication and a lot of luck. I have been very privileged to meet many people willing to help me. I am also working hard.
CR: You have given dozens of interviews already. Are there any questions you haven't been asked but would love to answer?
JL: My mom asked me once the question why I don't want to study mathematics, as I could easily do. My answer was that as much as I love math and discovering answers to problems, they are, in the end, always the same. In music, you never reach the same answer. I love to think with sounds. What I hope for the future? To gain knowledge, a lot of knowledge, to be able to truly play as well as I can. This is the obligation for the public and the music, as left for me by the great composers such as Bach, Mozart, or Chopin. My life will unfold the way it is supposed to. I have no control over what the future holds for me, I can only work hard and enjoy every moment of what I am doing. Art defines a nation.
"Music expresses that which cannot be said and on which it is impossible to be silent" – Victor Hugo
CR will be following this young artist's steps, thoughts (and fingers) closely. We are sure you will, too. In the coming months, Lisiecki will be performing throughout the Americas, Europe, Asia and the United States. To see when he'll be playing in your city, visit his website.
Jan, we hope your life will keep on unfolding in the best ways possible. Thank you for taking the time to catch up with us.
CR
Imagery
Jan Lisiecki, via janlisiecki.com