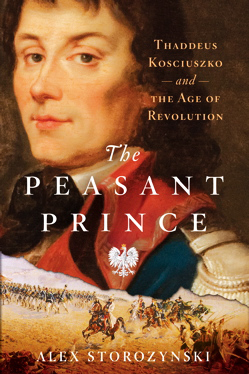 The Peasant Prince: Thaddeus Kościuszko and the Age of Revolution
by Alex Storozynski
Thomas Dunne Books, New York 2009, 384 p.
On a recent trip to Boston, ambling around the city with a friend, I happened upon a statue of Tadeusz Kościuszko in the public garden. My friend, a Texan named Adam who had never heard of pierogi let alone Polish patriots of the Revolutionary War era prior to meeting me, furrowed his brow at the long, difficult name inscribed on the monument and asked for an explanation of my excitement.
I began with a deep breath and launched into a brief but thorough account of Kościuszko's contributions to the rebel fight for freedom during the Revolutionary War. Adam, like most Americans, was surprised to learn a Pole had aided in the fight against the British and, as I was satisfied that I had enlightened him with my knowledge of the war hero, we continued on our way.
It was not until reading Alex Storozynski's recently published Kościuszko biography, The Peasant Prince: Thaddeus Kościuszko and the Age of Revolution, that I truly expanded my knowledge of Kościuszko beyond the fact that he was a Pole fighting for American independence to realizing that he was a true champion of freedom and equality for all. Storozynski accomplishes this goal entirely. Readers learn in depth the extent of Kościuszko's military engineering at West Point and during the Revolutionary War, as well as about his leadership during what became known as the Kościuszko Uprising, in which the citizens of the Polish-Lithuanian Commonwealth rose against their Muscovite occupiers. Battle scenes and engineering plans are described with lucidity and are surprisingly engaging, and considering that war descriptions are reading I often have to force my way through, I devoured Storozynski's depictions with surprising ease.
However, Storozynski also takes special care to emphasize the fact that Kościuszko was not simply a military man, which is what gives this biography further merit. Highlighting Kościuszko's liberal education, several ill-fated love affairs with women considered above his social standing, and his surprise at the treatment of African American slaves in the United States allows the readers to get to know Kościuszko on a personal level, and gives them a great appreciation of his love of and unconditional belief in true liberty. What I found most compelling about Storozynski's depiction of Kościuszko's commitment to freedom and basic human rights was the care Storozynski put into developing Kościuszko's close relationships where these beliefs were reflected. For instance, Kościuszko always treated his African American aide-de-camp, Agrippa Hull, as an equal, forged relationships with Jews around the globe and later allowed and encouraged Jews to fight for Poland during the uprising against the Russians and, when not attempting to abolish serfdom altogether, treated his own serfs with dignity and justice. Kościuszko also went so far as to chastise Founding Father and President Thomas Jefferson for his ownership of slaves, and challenged the injustices of powerful rulers such as Catherine the Great and Napoleon.
Overall, Storozynski's Peasant Prince provides a readable, in-depth biography of Kościuszko, from boyhood to death, and is recommended to anyone with a love for history and a penchant for freedom.
CR