Those of us lucky enough to live in a city that hosted the European Union Film Festival (EUFF) had a rare opportunity to see films that will not get commercial distribution at cinemas on this side of the Atlantic. You could always buy a DVD, but there is a special pleasure in watching a film on a big screen and in the company of large audiences. To some extent these audiences were there to cheer for their home teams, but there were also some serious film buffs who relished a chance to see something new.
I attended the EUFF in Ottawa, where we had the added pleasure of hearing each country's ambassador introduce their films. As diplomats, of course they made sure they said the right thing, but many did it with wit and style. I did not enjoy them all equally (the films, not the ambassadors), but a few were remarkable. I will mention three.
One was the UK entry, Muse of Fire, a quirky survey of popular attitudes to Shakespeare combined with commentary by some of the brightest lights of British classical theatre, ranging from Judi Dench to Jeremy Irons to Jude Law. A kind of master class in Shakespeare, the masters accessible but not condescending. This one is bound to turn up on PBS or TVO in Canada, so enough said. Except that my pleasure was enhanced by winning two tickets to Twelfth Night at the National Arts Centre.
Now the other two: Estonia's entry, The Fencer, and Poland's Bogowie.
The Fencer is Finland's entry for the Academy Awards, a point not lost on an audience expecting an Estonian film. The Estonian ambassador, Gita Kalmet, explained: not only are Finns and Estonians very fond of one another but The Fencer is a better film about Estonia than they ever made themselves. You didn't have to be a Finn or an Estonian to love this declaration of friendship between neighbours.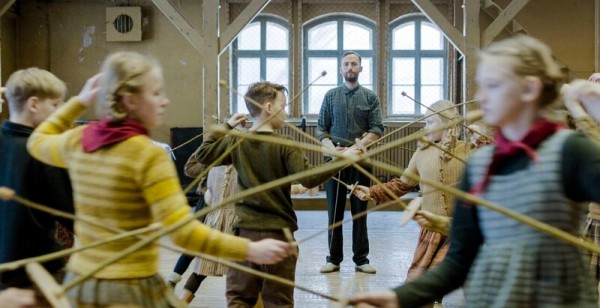 The story dealt with yet another neighbor, one much more difficult to love. You could say, the bully in the "hood". Still, there was nothing heavy-handed, nothing aggressive about this gentle telling of a story about a champion fencer and children in a small-town school.
Based on a true story, it is about Endel Nelis, a young man trying to avoid the attention of Moscow in the early years of the Soviet takeover of this small Baltic state. He accepts a position in a backwater town where he is to teach physical education and start a sports club at the school. The children discover he is a fencer. Intrigued, they persuade him to teach them fencing. He gives in, even though at first he has to make foils out of branches gathered by the children. The children – and what charming kids they are! – love it anyway, but when some old fencing gear arrives from Moscow, their enthusiasm knows no bounds.
Not least of the film's attractions is the aesthetic quality of fencing. Graceful and disciplined, it is more like ballet than a deadly sport. But, it is not long before the authorities decide that fencing is not a sport for the proletariat. The teacher is investigated, the NKVD alerted, and the story unfolds with both victory and loss.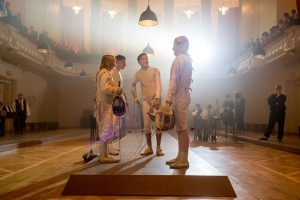 The Fencer portrays a people whose spontaneity has been suppressed, where state control has made self-control essential for survival. But the state has a harder time getting at the inner lives of a people and it is this that the film captures so well. With its excellent cast, slow pace, muted colours, and strong but soft voices speaking both Estonian and Russian, The Fencer effectively evokes the grim reality of Soviet rule.
Will the film charm the Academy? The Hollywood Reporter panned it for its sentimentality and feel-good presentation of a plucky underdog against a brute – and lack of moral complexity. This, from Hollywood of all places! The director, Klaus Härö had also failed to impress Hollywood in 2003 – the year he won the Ingmar Bergman Award.
The Fencer, accessible and eminently exportable, has done well at many film festivals, has garnered many great reviews, and won the Audience Choice Award at the EUFF in Ottawa.
Bogowie (The Gods), the Polish entry in the EUFF, had a theme similar to that of The Fencer – the struggle of an individual against an oppressive system. But there the similarity ends. Fast-paced and action-packed, this 2014 award-winning film by now has been seen by over 2 million viewers, presumably mostly Polish.
Based on a true story and directed by Łukasz Palkowski, it is about a Polish cardiologist, Zbigniew Religa, who performed the first successful heart transplant in Poland. And this is the genesis of a fast-paced, action-packed, suspense-filled, character-driven, brilliant and funny film dominated by a giant of a man played by Tomasz Kot.
Set in the dismal Poland of the 1980s when everything was shabby including the tin pot cars driven at raceway speed, Bogowie – gods, in English – takes place long after Stalinist terror had ended. Dr. Religa does not have to fear execution or the gulag. His enemy is invincible ignorance and bureaucratic lethargy, his weapons are knowledge, personality, determination and wit. He took on professional jealousy, Party bureaucracy, conventional thinking and traditional prejudice, and won.
Scenes of doctors and nurses wielding hammers and paintbrushes – never knowing when materials will arrive – to build their own clinic have almost a slapstick quality to them and will strain the credulity of most Western audiences. Few people here know much about Soviet-style Communism even at its most murderous stages; fewer still can imagine the sheer lunacy of the system.
But some humour is universal. "Will my husband still love me with someone else's heart?" People old enough to remember the shock, and sometimes horror, when Christian Barnard's first heart transplant hit the news are well aware that the heart has always had a special place in our… hearts. Try to imagine I ♥ NY replaced with I

 NY.
Palkowski captures the atmosphere of the times with his set design, and also the spirit of the times with his terrific, chain-smoking cast. Kot, of course – irascible, impatient, brilliant, stubborn, bad-tempered, huge, is ultimately lovable. Except to his wife. And  superb supporting cast with not a plastic character in the group.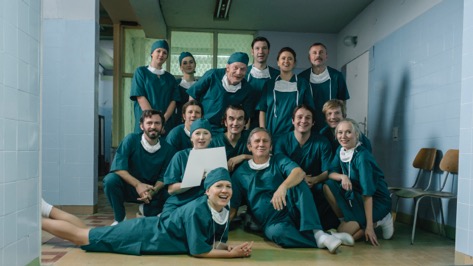 Still, I'm not sure if many Canadians and Americans will "get it". Speeding cars, fast dialogue, lots of blood and it's all about cardiology? Maybe… but think Coen brothers, on steroids.
If only the publicity had given potential audiences an inkling into the entertainment potential of heart surgery.
"The Fencer" Images Courtesy MediaPlanPR
"Bogowie" Photo Courtesy Marta Marczak, PR NEXT FILM