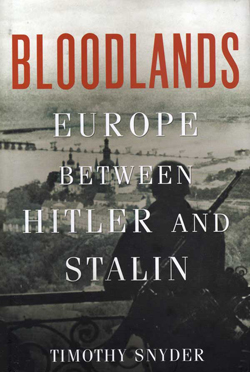 When historian Timothy Snyder went to Toronto January 25, 26 to present two lectures on his groundbreaking work, Bloodlands: Europe Between Hitler and Stalin, the demand for reservations was so great that the organizers were forced to find larger venues to hold an audience much larger than anticipated. The next day, January 27, he flew for a six-hour stop in Montreal to give a lecture at McGill University. Although organized on much shorter notice, Professor Snyder nevertheless attracted an SRO crowd. All to hear a lecture about Europe between Hitler and Stalin, that is, between Berlin and Moscow.
Between Berlin and Moscow, an area at various times called Eastern Europe, Central Europe and the rather clumsily-worded East Central Europe, is a big area with a large and varied population but one that has only rarely attracted the attention of scholars or journalists, or the mainstream public. Many students interested in this area have found not much on offer at their universities, instead being directed to German and Russian (previously Soviet) Studies, with the words, "You'll find something there." Yes, indeed. There's a certain irony there.
Professor Snyder arrived in Montreal just in time for a late lunch at McGill's Faculty Club, hosted by The Polish Institute of Arts and Sciences in Montreal. Attending were board members of The Canadian Foundation for Polish Studies, who sponsored the event together with several faculty members of McGill, the lecture's co-sponsors. During the course of the lunch, Professor Snyder was asked what had drawn his interest to his area of study, these lands between Berlin and Moscow.
As a student, in 1989-1990, he could not help but notice both the very dramatic events of that time and the very impressive intellectuals who lived there. And, he added, "an awful lot had happened there, and nobody was writing about it."
There were, of course, historians specializing in Polish, Ukrainian, and other regional histories, but in Bloodlands, Professor Snyder deals with this area as a whole, and with Berlin and Moscow as the outside forces that intentionally murdered 14 million civilians between the years 1933 and 1945.
Although writing about a vast area, Snyder does not present it as an undifferentiated "Eastern Europe." Far from it. Nor does he reduce the victims of the two totalitarian regimes to statistics. Snyder writes about the trials of each country, and each ethnic group within the different countries, meticulously documenting the specific plans that Berlin and Moscow implemented in each individual case. He never lets a reader forget that the story is primarily about innocent men, women and children, families, desperate parents, abandoned orphaned children, all subjected to unspeakable suffering because of the two regimes' ideology and lust for power.
Perhaps at last western historians, journalists, educators and the many commentators of western media will take note.
Timothy Snyder is rightly acclaimed as a great historian, competent in many languages, a disciplined researcher, a gifted writer and, as evidenced by Bloodlands, a man of remarkable humanity. You will not find easy generalizations here. With meticulous research, Snyder identifies the architects of the depraved systems that create this horror, identifies the armies, the battalions, the police forces, and all special task forces that did the bidding of their superiors. Beyond that, there are the letters and other personal documents that show how ideology, once absorbed by ordinary men, replaced all civilized standards of morality.
It is a searing, sorrowful history that belongs in every library, every history course dealing with our modern era. It is especially important for journalists and other writers who are all too often –  perhaps unconsciously –  seduced by power, by ideology, and by the drama of powerful armies, and therefore blinded to the human misery they leave in their wake. The area between Berlin and Moscow is big, and the population is numerous. It's time for the survivors of Germany's and Russia's monstrous wars to be recognized as individuals, as members of identifiable nations each with its own story and not as a faceless mass.
Bloodlands has now been on best seller lists for some time and has been signed for at least 15 translations. It is, without question, the most important history of WWII to date. CR