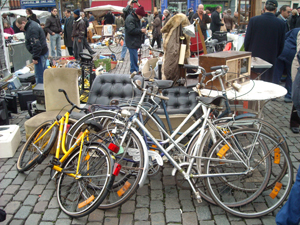 I really like Brussels, contrary to conventional opinion. What I find completely pointless is that people often compare it with Paris. Brussels is definitely not as glamorous as the French capital, but it could undoubtedly be considered its "little sister" as it can offer everything the most cosmopolitan creature may dream of.
What makes me so keen on Brussels? The fact that I have an extremely sweet tooth is one reason – it goes without saying that Brussels can both lure the palate and caress the senses of such gourmands like me, with all its handcrafted pralines, macaroons, biscuits, waffles and spéculoos… Be it Marcolini, Mary, Darcis, Godiva or Neuhaus – the city's chocolatiers are the real masters of temptation!
But let's put the stomach's delights aside now. There is one underlying factor that makes Brussels an extremely tailor-made city: it is absolutely heterogeneous, not to say incongruous, both in terms of its architecture and its population.
Brussels should not be judged solely through the prism of the European district – strikingly enough, the heart of EU institutions still remains heavily under construction, which seems to be a never ending story. The Euro district, which probably has as many fans as foes, undoubtedly contributes the lion's share to the city's modern identity, but to grasp the uniqueness of the Belgian capital, a deeper, longer look is needed.
It goes without saying that zealous connoisseurs of Art Nouveau will feel they're in heaven here. Brussels' long list of Art Nouveau masters should probably begin with such big names as Victor Horta, Paul Hankar or Paul Cauchie, but a passionate promenade through almost every commune leads to the real pearls of graffito and coup de fouet by other, maybe less praised, but not necessarily less talented artists. When searching for the most conspicuous examples of the style, one should definitely not forget to head to Uccle – walking its aristoctratic Avenue Molière offers an infinite array of breathtaking examples of hotels and maisons Art Nouveau. Extremely passionate about the style myself, I think it deserves a separate article.
Let's focus on something different that I particularly appreciate, here in Brussels. Close to the royal quarter and the posh Avenue de Toison d'Or, which is by the way a place à ne pas manquer for all those addicted to Gucci, Vuitton, Chanel et al, one can unexpectedly end up in a completely different world – which is, by any definition, an African land and one of the city's most lively areas – Matongue. What I especially like about this area is the openness, simplicity, but first and foremost, happiness, that is so characteristic of its inhabitants. Matongue does not only offer to its visitors the greatest variety of lpomoea batatas ever, but also a unique chance to meet the nicest guys in the night shops, whose permanent smile and good humour remind you of how often you forget to appreciate the ordinary in your extraordinary life!
Brussels' inhabitants from Arabic countries are definitely the ones who like sharing their happiness with others. Wrongly judged by some as pushy and boisterous, each time I have a chat with them while buying my greens, spices or olives, I am amazed at the way they make their life and relations with others clear and uncomplicated.
Let me now turn to another thing I adore in Brussels: the unprecedented passion for the old and the real cult of the second-hand. Each visit to the famous flea market at Place du Jeu de Balle, a weekend must for all history fanatics like me, is an excursion to the past par excellence and, philosophically speaking, offers a unique opportunity to examine our human existence. Each time you buy one of these objects, considered by me to be jewels but scornfully described by others as "rubbish," you ask yourself a series of tricky questions: where and when was this object produced, who were its former owners, and finally, what will its inner energy bring to your life. Apart from several squares famous for their permanent or temporary flea markets, you will find here plenty of second-hand shops, les Petits Riens being probably the most distinct example, where you can purchase practically everything: books, music, china, cutlery, vintage clothes and accessories à la Bourgeois-Bohemian,… and you will have again a unique chance to bargain with the happiest merchant in the world!
Happiness, or let's put it differently – a real joie de vivre is the real power of the city's inhabitants, especially its merchants. Every time I wander around rue de Bailli and Trinité in my favourite Châtelain area, best known for its cozy but bon chic bon genre character, I appreciate the look of happy people cherishing all these precious but simple moments of life when you drink tea with friends, buy chocolates, walk your dog… Is life not a miracle?
Joyful, savory, unpretentious and inspiring – here is my definition of the EU capital.
CR
Imagery
Brussels photo by Aleksandra Styś