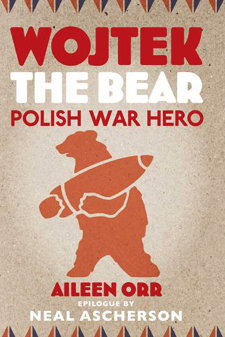 Wojtek the Bear: Polish War Hero
By Aileen Orr
Epilogue by Neal Ascherson

No doubt all Poles know, as by now many others must as well, that despite the fact that Polish forces fought with Britain in virtually every theatre of war against Nazi Germany, the Poles were barred from marching in London's great victory parade. This was not England's finest hour.
On the other hand, very few people, Poles included, know that in 1946 the people of Glasgow staged a ticker tape parade and lined the streets of the city to welcome Polish veterans. Proudly marching in the ranks was Private Wojtek, a Syrian brown bear who had, by this time, been with the Polish army for 26 months, traveling through the Middle East, crossing with them to Italy where he saw action at Monte Cassino, and then continuing on to liberate Ancona and Bologna. He was a genuine war hero, loved and respected by his comrades, and well on the way to winning the hearts of the Scots.
A number of books have appeared about Wojtek but it is really the internet that has spread his fame worldwide. Clips from archival Polish army footage are posted on YouTube, and in the past couple of years his story has made the news on every continent. One Italian headline read: Wojtek l'orso che libero l'Italia (Wojtek, the bear that liberated Italy).
Still, these clips only tell a tiny bit of the story and his most ardent admirers – apart from his old comrades – are Scots, particularly one Scot who believes Wojtek deserves much more recognition and has taken steps to ensure this happens.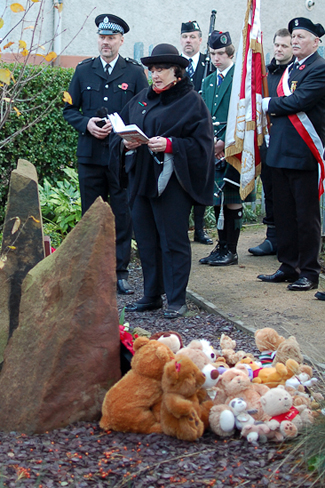 Aileen Orr (pictured at right), the author of Wojtek the Bear: Polish War Hero and a member of the Scottish Parliament, not only wrote a book about him but also established the Wojtek Memorial Trust to honour Wojtek and the men who traveled with him from Iran to Scotland during World War II, and to strengthen the bonds between Scotland and Poland. Trustees include Cardinal Keith O'Brien, Major General Euan Louden, Krystyna Szumelukowa and Mrs. Orr.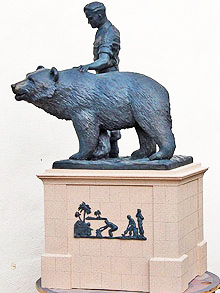 Ms. Orr's plans include a statue of Wojtek (pictured at left) walking together with his best friend, Peter Prendys, a sergeant in the army of General Anders. Although the best known image of Wojtek showed him carrying shells, the sculptor, Alan Herriot, chose to emphasize the strong bond between the soldiers and their much loved bear.
To tell the story, Ms. Orr researched archival materials and interviewed many people who remember Wojtek. She herself met Wojtek when she was eight, during a school trip to the Edinburgh Zoo, Wojtek's last home. Her grandfather, who had been a sergeant in the proud and distinguished regiment, the King's Own Scottish Borderers, was a regular visitor to the camp at Winfield in Scotland. He told Aileen to say "hello" to Wojtek in Polish, and Wojtek's spontaneous response, making eye contact and waving his paw, won her heart and created an indelible memory.
The book tells so many stories, tender, sad and funny: how the soldiers got the cub, how they concealed him from the NCO who, in turn, concealed him from the officers who, in turn, instantly approved. Ms. Orr recounts Wojtek's many adventures – in the Middle East, in Italy and finally in Scotland. Like all soldiers, he liked an occasional beer and a cigarette, loved food, loved to wrestle, and was always willing to help carry heavy objects. In Scotland, his comrades took him along to dances in the nearby small towns and he was, of course, a girl magnet. The image of Wojtek sitting upright at a dance, head swaying to the music, is one that nobody could ever have forgotten. In 1947, the Polish army was demobilized and the soldiers scattered across the UK to embark on their civilian lives. That included Private Wojtek, whose job qualifications in civilian life were quite limited. Finally it was decided the Edinburgh Zoo was the best place, not least because they accepted him with great pleasure. For a long time, Polish soldiers visited Wojtek and, despite Zoo regulations, often jumped over the barrier to enjoy a playful wrestle with their old friend. But the zoo authorities didn't stop them, knowing it made Wojtek happy – and was highly entertaining for visitors.
There is much more, all of it beautifully told. Neal Ascherson once again fills in the historical background in an excellent epilogue. This is a book that tells a sad and inspiring story in the most heartwarming way possible, bound to please those who know the history and an excellent introduction for those who don't. And funds from the book will go to Wojtek's Memorial Trust.
For more about Wojtek and his Scottish friends, here is a link to the Robert Owen Memorial Primary School's children singing "Voytek the Soldier Bear," with music by Billy Stewart. The school is in Lanarkshire, Scotland.
And here's a link to Aileen Orr speaking at a memorial service.
CR